---
5 Reasons why you need to visit London this August Bank Holiday
Come to London at any time and it's great, come to London over a bank holiday weekend and it's even better! With so much to see and do in the capital over this coming August bank holiday, book your room at Kip now so you can make the most of it!
Nottinghill Carnival
Notting Hill Carnival, Europe's biggest street festival, is a vivid spectacle representing London's multicultural past and present. It's also a vital date in any party-lover's diary and has been held over the August bank holiday for the last 50 years (this year marks its 51st anniversary). Sunday is the family/quieter day while the Monday is the busier of the two days.
When: Aug 27-28th
Where: Spread throughout W10 in west London, the Carnival celebrations take over the areas of Notting Hill, Ladbroke Grove and Westbourne Park.
Price: Free
Gladiator Games at Guildhall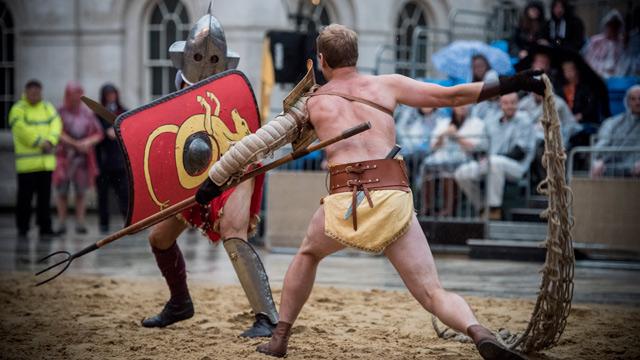 Unleash your inner Roman at the Gladiator Games at Guildhall Yard. Set above the remains of London's ancient Roman amphitheatre, this series of fights promise to be the most realistic series of gladiator fights the 21st century has ever seen! Brought to you by the Museum of London and staged by Britannia, the collective that worked on Ridley Scott's Gladiator film, each one-hour show is based on research into 1st-century gladiatorial combat.
When: Aug 25th-28th
Where: Guildhall Yard, Gresham St, London EC2V 7HH
Price: Adult £20-£22 | Child (5-16) £13-£15 | Concessions £16-£18 |Under 5 Free
---
Conservatory at the Barbican
Visit the second biggest Conservatory in London at the Barbican Centre and explore a hidden tropical oasis in the heart of the city.
Home to exotic fish and over 2,000 species of tropical plants and trees, it's a perfect way to enjoy a lazy Sunday with friends and family.  Book in advance for an afternoon tea to remember.
When: Opening times Sundays and Bank Holidays only, 12 noon–5pm. Last entry at 4.30pm
Where: The Barbican Centre,  Silk St, London EC2Y 8DS
Price: Free to wander around | 1 hour guided tour £12.50 | Afternoon tea £27.50
---
Last Days of Shoreditch
Last Days of Shoreditch brings to you a beach, an avocado bar and great music. With sets during Saturday and Sunday daytimes from XOYOs resident DJs and loads of street food stalls on hand to soak up the cocktails, it's a great place to visit during the bank holiday.
When: Throughout August and September
Where: 288 Old Street, London EC1V 9LA
Price: Varies
---
The Art of the Brick: DC Superheroes
LEGO artist Nathan Sawaya returns to the UK with a brand new exhibition inspired by DC superheroes and villains. Featuring over 120 large scale exhibits made from over 2 million bricks. Together with Warner Bros and DC Entertainment, the well-known and celebrated artist Nathan Sawaya has created the world's largest collection of artwork inspired by DC's Justice League, including Batman, Superman, Wonder Woman, alongside DC Super-Villains the Joker, Harley Quinn and more.
To kids and adults who love LEGO, Sawaya is a bit of a super hero. For the last decade, the former lawyer turned artist has elevated the simple toy to highly sought-after artwork, and has inspired countless kids to think outside of the box.
When: Throughout the whole of August
Where: Doon St, Lambeth, London SE1 9PP
Price: Adults £16.50 | Kids £11 | Family ticket £11.25 each
---
Did you know that Kip is located within 40 minutes drive of London City airport and is only an hour away from Stanstead airport? Need to get into the city centre? It only takes 25 minutes. Start planning your bank holiday weekend and book your room at Kip now.